My husband and I are beginning level beekeepers. Many of the men in his family have been beekeepers. It has always interested my husband and recently one of his older relatives, who is not in the best health, gifted us with 3 hives.
I have pretty much left DH to do all the work with the bees. He has a calmer nature and the bees sense that and stay calm while he is messing with them. But this winter I have helped out by feeding the bees on warmer weather days, when DH just happens to be at work. It is easy to feed them. You just pour sugar water into very shallow plastic lids so they can land, eat and not drown. Usually on warmer days, I will fill their bowls continually all afternoon. After the first fill they are usually buzzing all over the place, just waiting their turn at the sweet stuff I am putting out.
So yesterday I decided to put on the close up lens and try to get some good pics. Trouble is, at my "advanced age" it is hard to keep the camera really really still in order to get real crisp shots with the close up!! But I think these are pretty cool.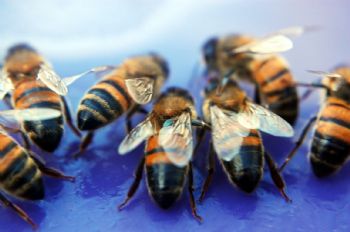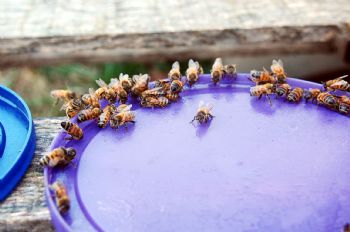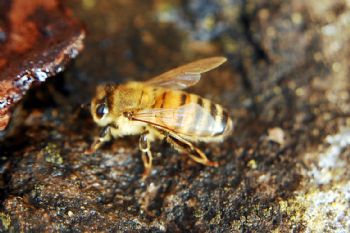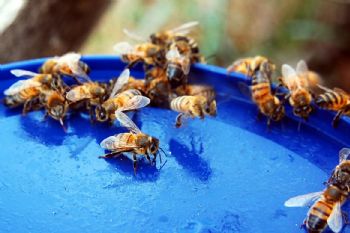 I love the last one where the bee has just taken off and is in flight!! Of course, there is always the danger a yellow jacket will also come feed. They are very easy to recognize with the very distinct yellow stripes and shiny body. The bees usually tolerate them when they are really hungry and will chase them off during times when they have the extra energy to do so.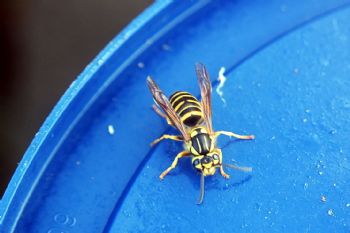 But as I was shooting pics, I realized I have come a long way since the bees came to live with us. I have never been really scared of them but when I saw them crawling on my hands while I was shooting pics, I decided I am getting pretty complacent about them altogether!!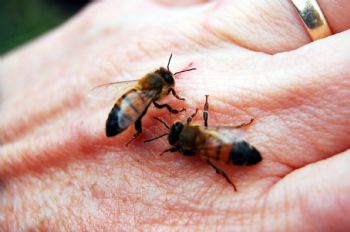 So hopefully this spring we will harvest our first honey. Then work to increase the number of hives and bees for the future. Meanwhile I know they increased our garden productivity and will continue to do so. They are the best pollinators for many plants and I always saw them busy at work ever morning when I went out to pick.
A few more pics from my day yesterday. First some pretty leaves and tree fungi done with the close up lens. Then of our dog Daisy who decided to make her self comfortable in the chair on the porch.