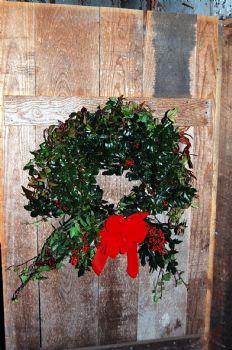 As I mentioned yesterday, we had tickets to the local historical society's log cabin tour. There were 5 cabins to be visited spreading over about a 20 sq mile area in just 4 hrs. Plenty of time I thought. Well, we barely had enough time cause we enjoyed each place so much we didn't want to leave that one to go to the next!!
The first cabin I have no pics of. It was the official starting point and stayed a bit too crowded. It was a true old log cabin, restored just enough to keep out the weather. It was furnished with period peices, including a gorgous old quilt on the bed. They had a spinner there with yarns she had spun from all kinds of animals. Even dogs and cats. I am convinced by spring we will be raising angora bunnies and maybe a golden retriever will be added to the family. Don't even get me started on cashmere goats!!
The 2nd cabin is the one I took the wreath on the door picture at. It was a very old cabin with mostly historical value. 2 governors to the great state of Tennessee were born in it many eons ago. The elderly gentleman there was a descendent of the 2nd family to own it and he was great at telling all the history that was held within it's barely standing 4 walls!! Also these cemetery photos were shot just below the cabin in the Bethany cemetary which has some very very old graves.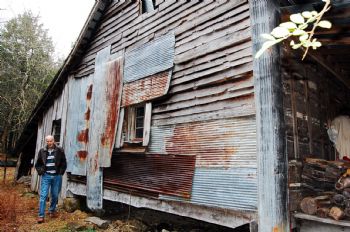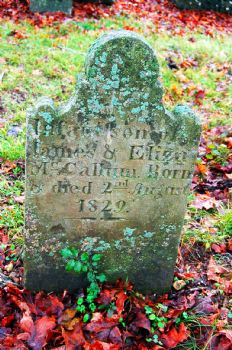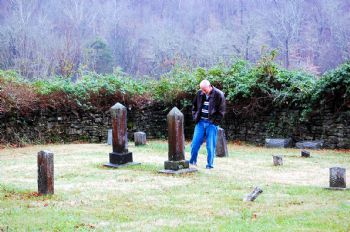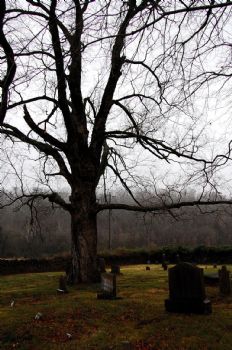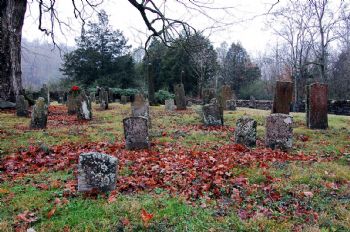 The next cabin we visited was modern and quite a cute place. I think it is probably just a weekend house for a young couple with no kids and way to much money on their hands. The shell was built but the husband finished most of the inside himself. Funny thing-the husband had put up a teepee in the front yard which had 6 beanbag chairs, a firepit in the middle with a large screen TV hooked up to satellite so he could watch the football games. Gorgeous house that the man builds and still he is relegated to having his mancave outside!!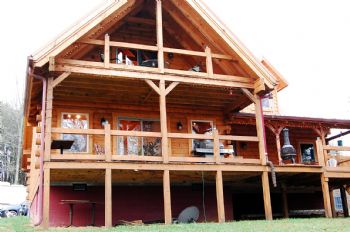 Then we went to see a amazing large modern log home up on a hill not very far from our neck of the woods. I have been down the road it is on many times and not seen it due to the trees surrounding it. But without leaves you can catch a peek of it driving by. The driveway was so steep that they have a winter parking pad down below in case they can not drive up. Inside the home was lovely, large and although sparsely furnished, it was perfect. I fell in love with a armchair that was obviously from the 50's that they had reupolstered and now I want to find one of my own. But I didn't just love the house the way I might should have. Just didn't have the spark I normally find appealing in a home. The view from the wrap around porch was beautiful tho, and I swear you could see the entire county from up there.
The last cabin was the one that took our breath away and inspired us into wishing for a cabin of our own. Like that would ever happen. But you gotta dream, right? This place was quite aways out to begin with. And it was getting late by the time we finally got down the road to the actual cabin. It was set in a lovely shallow valley away from anyother signs of life. The closest house was over a mile up the road and it was actually the house of the owner and builder/restorer of the cabin. The man had never ever built anything in his life prior to this undertaking. But it had always been his wish to have a cabin. So when he found this land without any cabin to restore he chose another direction to take. He bought a old cabin that had been dismantled and had it brought to his place. He rebuilt the old structure with a new, but done in the original method, foundation. He had to add some new logs to make the place just a bit bigger but he had those hewn at a old style sawmill and he hand cut the mortises to match the original. He kept everything so it looked like it had when the cabin was first built but threw in new technology if it could be completely hidden. Like in the foundation and behind the chinking. But there is no plumbing, electricity or insulation. But my goodness, it was gorgous. Everything about it shown with the love this man put into it. And the view in all directions was pure heaven. I should have asked the man if he rented it out for a weekend occasionally!! The pictures I got were pretty good considering how dark it was getting when we were there. But I think that everyone is worth seeing.